It has been announced that Baxenden Radio's operational licences have been renewed for an extra year following an executive decision to develop IRG|UK's streams. It is unclear whether these operational licenses will be renewed next year.
Cameron Boyer of IRG|UK said: "We strive to bring great music to our listeners through our high quality streams. We just need more time to understand what works and what doesn't, thats why we're considering rolling out a regional station and in the long run looking into the possibility of a national station. However we must stick to our current [goals] as we cannot make a decision on whether to remove Baxenden Radio after a year of operation"
Powered by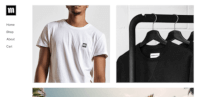 Create your own unique website with customizable templates.