IRG|UK is pleased to announce the launch of a new network of regional based internet radio stations for the UK carrying the name Joy Radio.

Joy Radio is a new regional based network of internet radio stations, owned and operated by IRG|UK. Joy Radio is an Hot AC (Adult Contemporary) network and carries the slogan of "Feel the Joy!" to reflect the variety of tracks played on the stations. The stations will operate through a single web domain (joyradio.tk) and provide local content for each region that each station covers in the network.

CEO of the IRG|UK group, Cameron Boyer, said that the new stations are a "really exciting move for the group."

"We can't wait to launch our new regional stations as this is the biggest project we've undertaken. There's been a lot of hard work put into this network and we've been planning it for just under a year. It started with initial ideas being put forward as to what and where the new stations should cover, followed by the decision as to whether to have them as individual brands or as a whole brand.

In the end we decided to brand all the stations as one, we did this because we wanted to create a strong brand that could rival other networks rather than having potentially weaker individual brands. Internet radio is an increasing player in the media market, and so it was absolutely vital that we had the head start.

More recently we've been creating the website, which allows the listeners to choose their relevant station, somthing they do when they first visit the Joy Radio website. Each regional station will have it's own website under the Joy Radio domain and the users will be automatically forwarded to their relevant station." - Cameron Boyer

Joy Radio is the first IRG|UK brand to have it's website built from scratch by the group's own Software Team, "I can't wait for the website to go live, it looks really impressive" says Cameron.

The first region in the Joy Radio network targets the North West and a launch date is yet to be decided. More regions will officially be announced in the future.
Powered by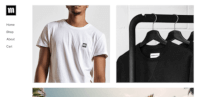 Create your own unique website with customizable templates.